Flexible Packaging: The Future of Packaging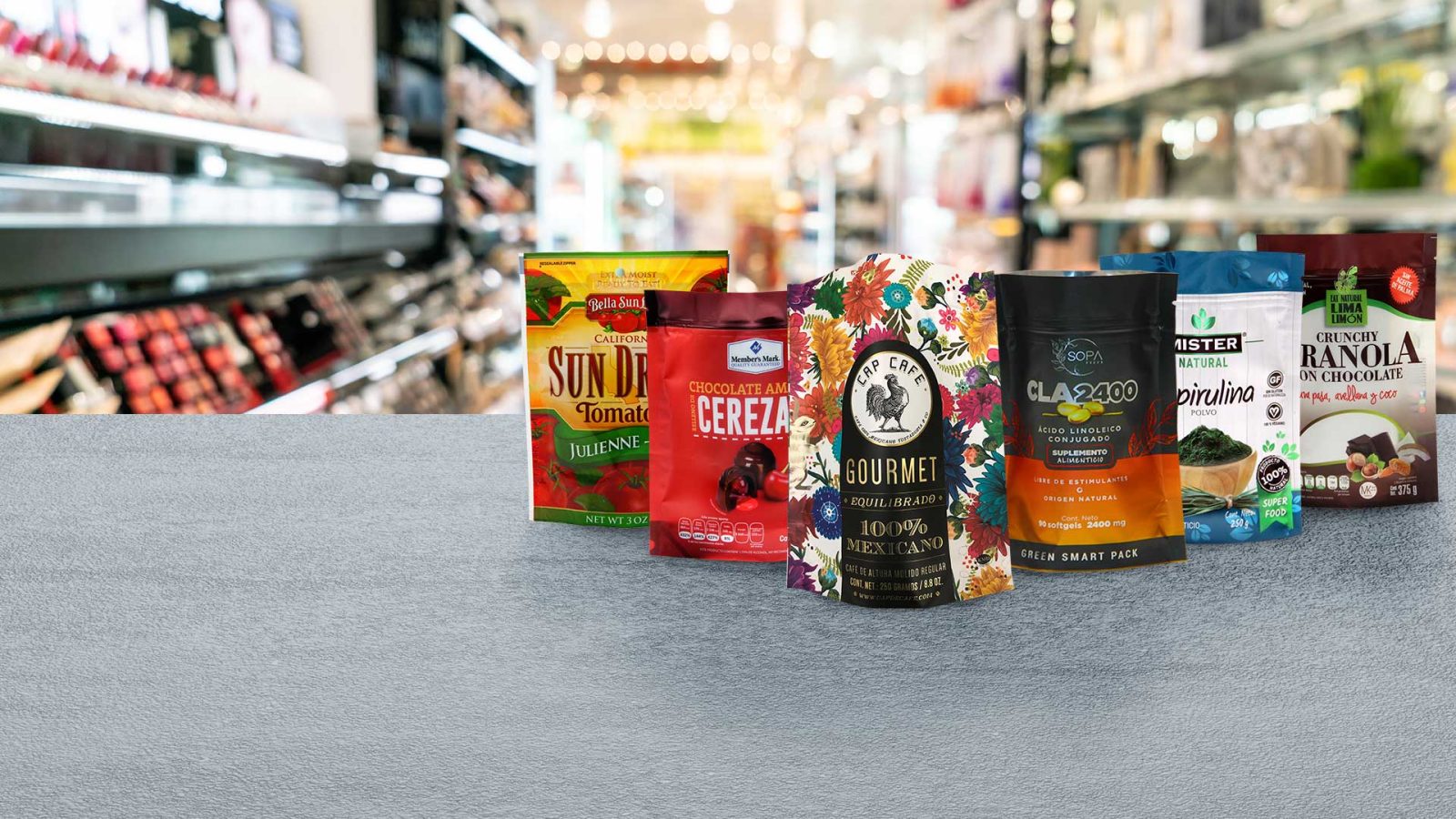 What Is Flexible Packaging?
Flexible packaging is defined by the Flexible Packaging Association as "a non-rigid packaging structure used to package and protect products", and "any package or part of a package of which the shape can be readily changed." This includes packaging solutions such as bags, pouches, liners and wraps, films, metalized or coated paper, and film, etc. The main material used in production is plastic and is made up of films and flexible laminates.
Flexographic Printing
Flexographic printing has become one of the most reliable, fast, and cost-effective printing methods for flexible packaging. Technology improvements in recent years have shortened the gap between Rotogravure and Flexography.
Re-Sealable and Easy-To-Open Features
Flexible packaging allows for the incorporation of easy-to-open and re-sealing technologies such as zippers and perforations.
High-Barrier Packaging
High-barrier packaging is designed to give a high moisture and odor barrier. The coatings or multilayer plastic laminations reduce moisture and gas diffusion into and/or out of the flexible packaging. Oxygen and water barriers are necessary to preserve freshness and quality for the majority of food products such as meat, fish, pasta, salads, and vegetables. High-barrier packaging also extends a product's shelf life without the use of preservatives, which in turn contributes to the reduction of food waste 2-3%.
The Benefits of Flexible Packaging
Among the many advantages, sustainability is a key benefit. Other significant benefits include the extension of shelf life particularly for food products such as meat, fish and fresh produce; the added convenience of stand-up and re-sealable packaging for consumers, less food spoilage and waste, lower emissions and use of natural resources during manufacturing, and elevated aesthetic appeal for both retail and e-commerce.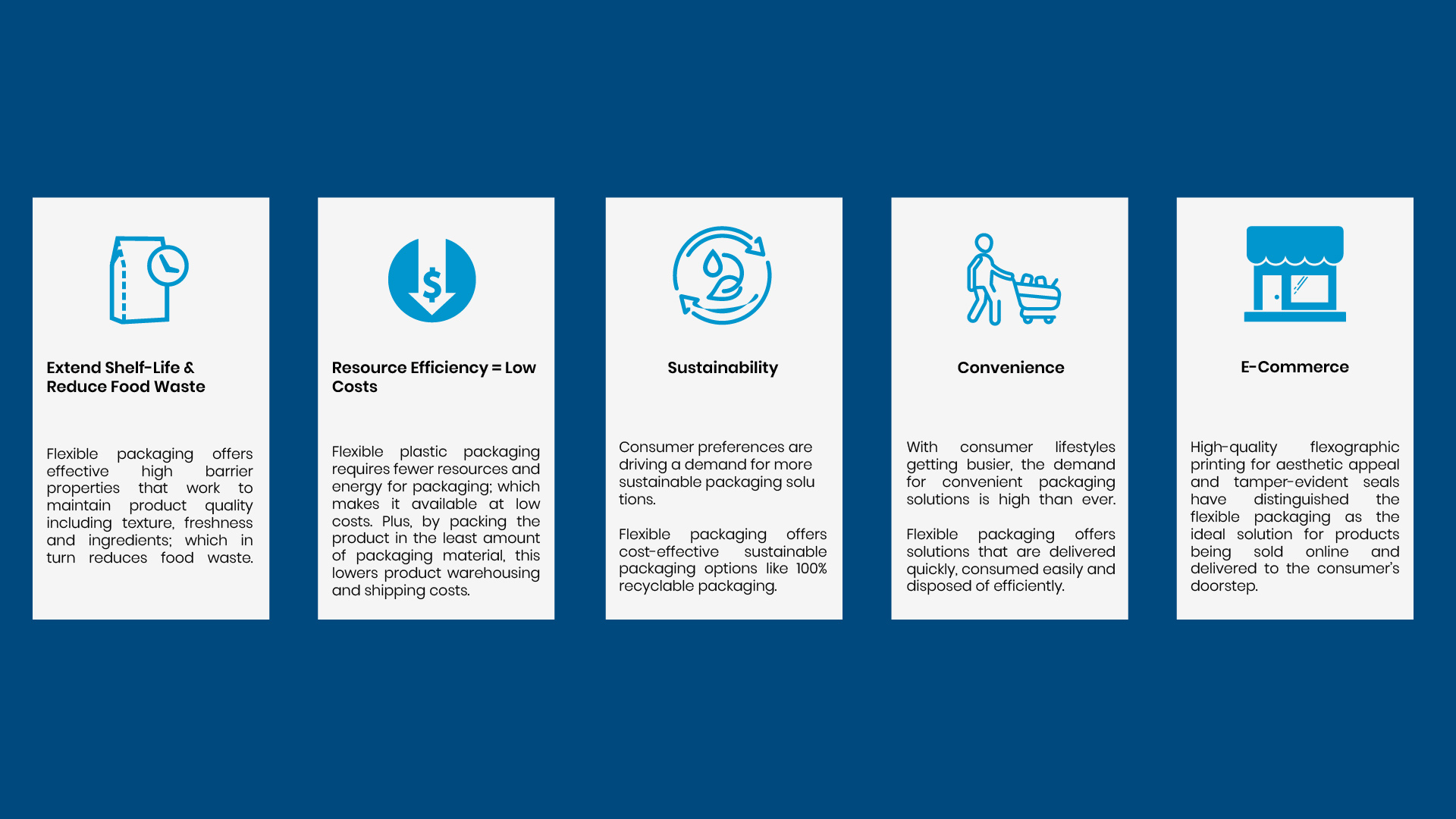 Types of Flexible Packaging
Custom Printed Bags
Custom printed bags are a growing flexible packaging solution for a wide variety of markets. These include laminated packaging bags, polyethylene plastic bags, polypropylene plastic bags, and T-Shirt shopping bags.
Polyethylene or polythene is currently the most common plastic used in manufacturing. It is a lightweight, durable thermoplastic with a variable crystalline structure. Polypropylene plastic is a durable plastic with a high melting point that is non-reactive to water, detergents, acids, or bases.
Woven Polypropylene Bags
Woven Polypropylene bags (WPP) are created by weaving polypropylene threads together to create a strong material that is lightweight and breathable while remaining tear-resistant with an excellent moisture barrier. Full HD print Biaxially Oriented Polypropylene film and laminates guarantee an odor-free bag and sturdy construction. Woven poly bags are often used for high-density packaging for pet-food and bulk products.
Custom Printed Pouches
Pouches are easily becoming one of the most popular packaging solutions for a wide variety of products. High-quality flexographic printing and materials create a pouch that is aesthetically pleasing on and off the shelf. Pouches also add the convenience of features such as stand-up design and re-sealing zippers.
Printed Rollstock and Laminated Films
For clients that have their own form-fill seal, form, fill and seal rolls are available in a wide variety of stock film substrates. World-class printing presses such as those used at Polymerall offer full HD printing using state-of-the-art plate technology. Materials can also be laminated to combine substrates in order to create a film with all the properties needed for a specific product.
Consumer Statistics
According to a study realized by the Flexible Packaging Association (FPA), 55% of brand owners reported a noticeable increase in sales after making the switch to flexible packaging.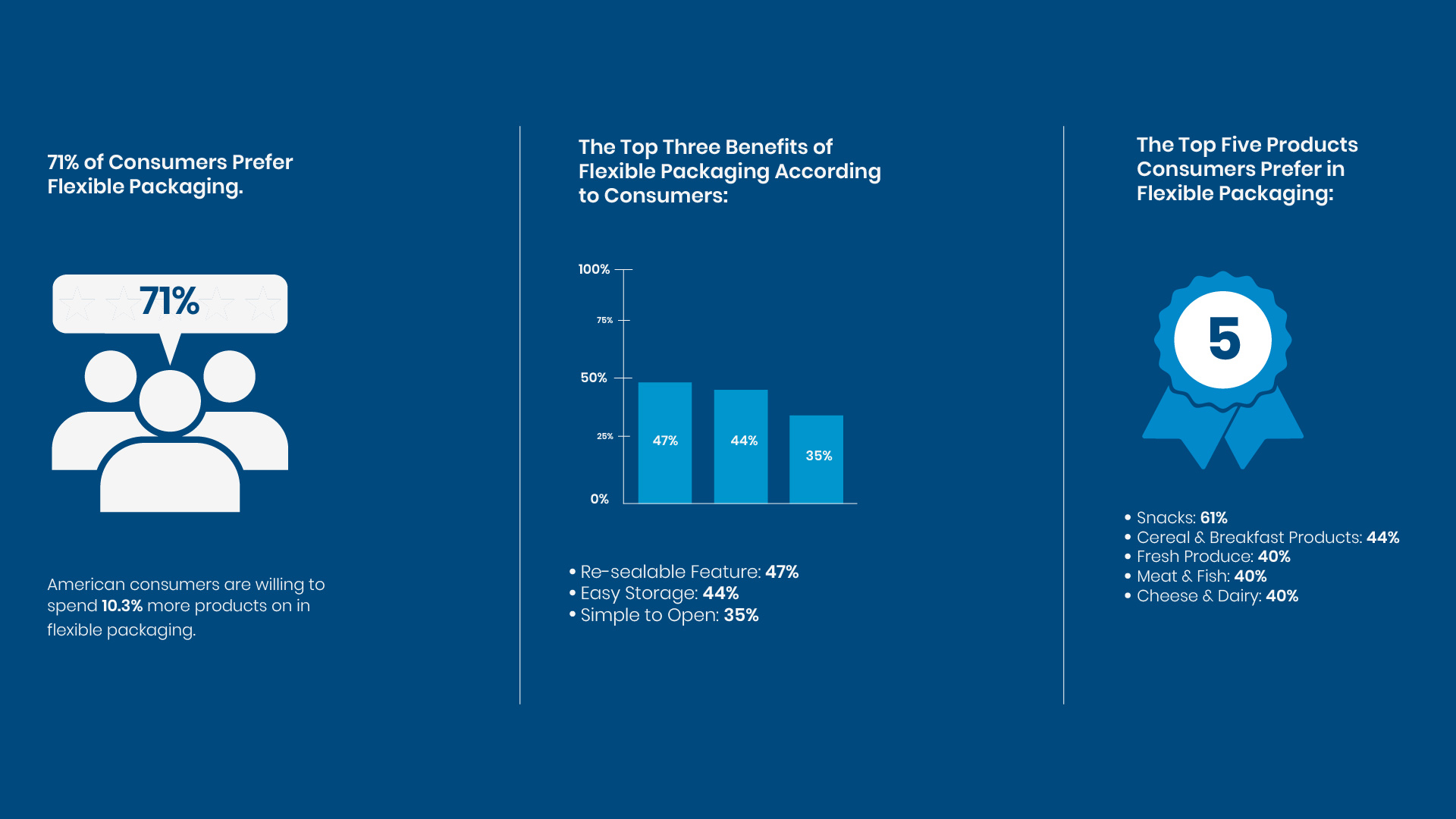 Polymerall
Your One-Stop Go-To for All Your Flexible Packaging Needs
We are a team of creative professionals dedicated to improving brands with customized, efficient, and innovative flexible packaging solutions. We specialize in consulting, manufacturing, and distributing flexible packaging, printed and laminated films, bags, and pouches.
We offer 100% customizable eye-catching designs with the added benefit of 24/7 graphic design assistance. All of our products are made to exact sizing and specifications and are printed with state-of-the-art printing presses for full-color front, back, and bottom digital printing.
Our expert team at Polymerall works alongside our clients to create exceptional flexible packaging solutions to ensure their products stand out on and off the shelf. We offer low minimum order quantities, 4-week lead time, and work hand-in-hand with each and every client to ensure their product is designed to boost sales and lead their company to success. Get in touch with us today to find out how you can reduce packaging costs while increasing sales.