Flexible Pasta Packaging: Elegant and Practical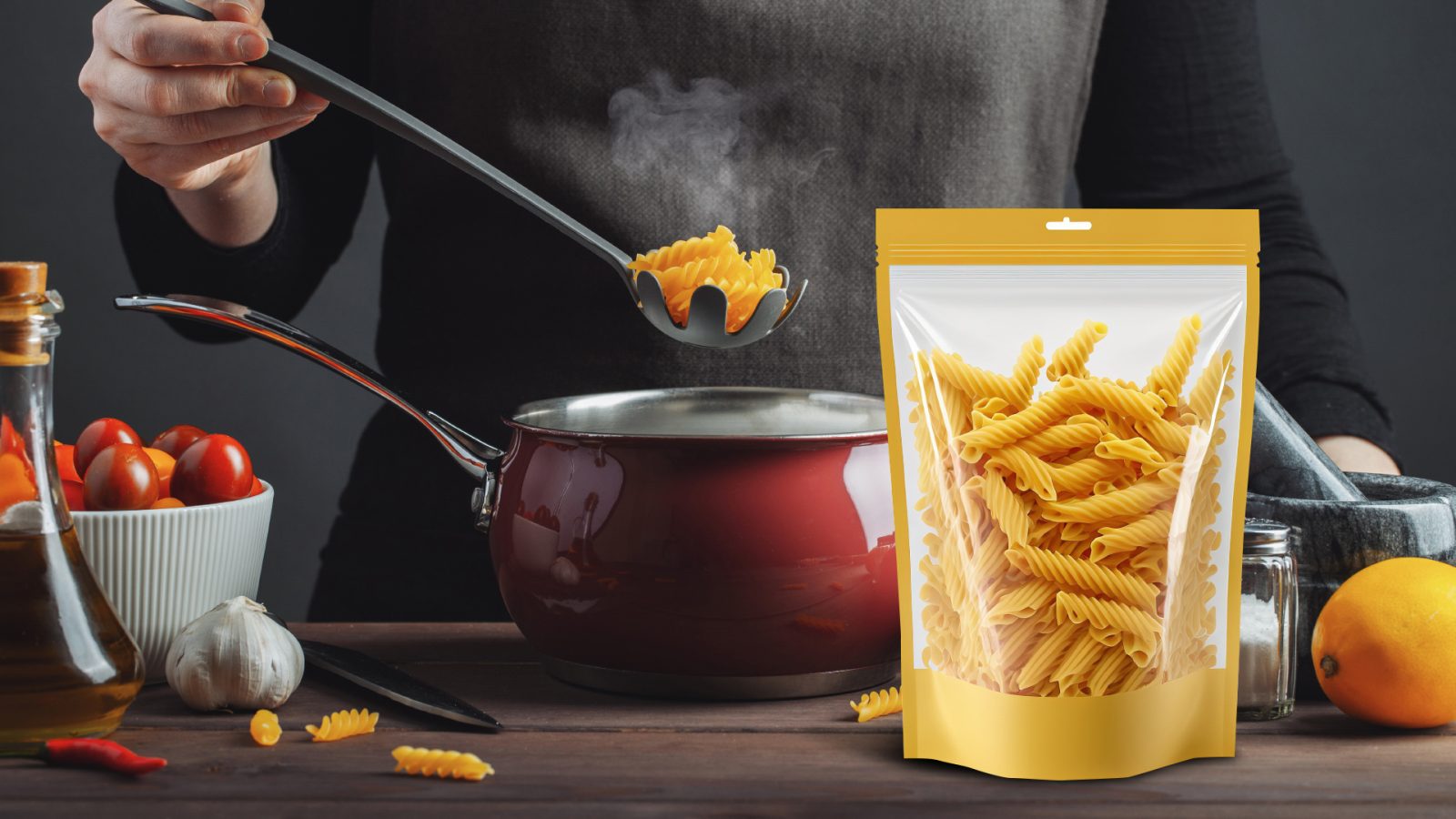 Pasta is the world's most favorite food, according to a survey carried out by the charity Oxfam. Let's face it, pasta is not only delicious, it's very versatile and easily prepared by busy families all over the globe.
In the beginning of the 1900s, an artificial drying process was developed that would allow pasta to be mass-produced and, as a result, mass-distributed. Soon, pasta was on the table in kitchens all over America.
Moisture is the enemy
As with any dry food packaging, pasta packaging needs to take into account that dry pasta must contain no more than 12.5% moisture in order to maintain quality and edibility. While the shelf life of pasta is, on average, from one to two years, this depends on whether the product is packaged correctly and is resealed after use.
It's not always easy to keep pasta at optimum conditions, because pasta's entire job is to absorb moisture in order to make it edible. And that's why pasta packaging should have an adequate moisture and oxygen barrier for long storage.
For fresh pasta, which has a shorter shelf life than dry, these barriers become even more important in order to keep the product fresh and delicious.
Packaging for Shape
Another concern is the shape of the pasta. Packaging must take into account the wide variety of shapes and types, from long, wide fettucini to the short, filled tortellini. Some pastas are delicate, such as angel hair and spaghettini, while others can be packed more loosely together without concern for breakage.
Self-supporting stand-up bags are generally good options for short dried wheat pasta and small egg noodles. Pillow bags, with their three welds, provide an economic, convenient alternative.
For spaghetti packaging and other long pasta packaging, flat-laying pillow bags or pouches are ideal.
Flexible Packaging Fits the Bill
With the excellent moisture barrier of flexible packaging, you will probably eat your favorite linguini long before it runs out of shelf life. The multilayer coatings of laminations in flexible packaging will keep moisture out so that dry pasta is easily maintained.
With fresh pasta, optimal barriers can be implemented to prevent the growth of microorganisms on the pasteurized pasta.
The best part about packaging pasta with flexible packaging is that customization is so easy. There are pouches and films of all sizes, with options such as resealability, adding both elegance and practicality to packaging.
What's more, flexible packaging uses high-quality graphics, which is good news for a business who is interested in promoting their brand in a competitive market.
At Polymerall, we know that the pasta market is competitive, and we also know how to give our clients the edge. Get in touch today and let's work together to match your quality pasta product to the right packaging solution.