Flexible Packaging for the Snack Industry: Attractive Packaging with Added Convenience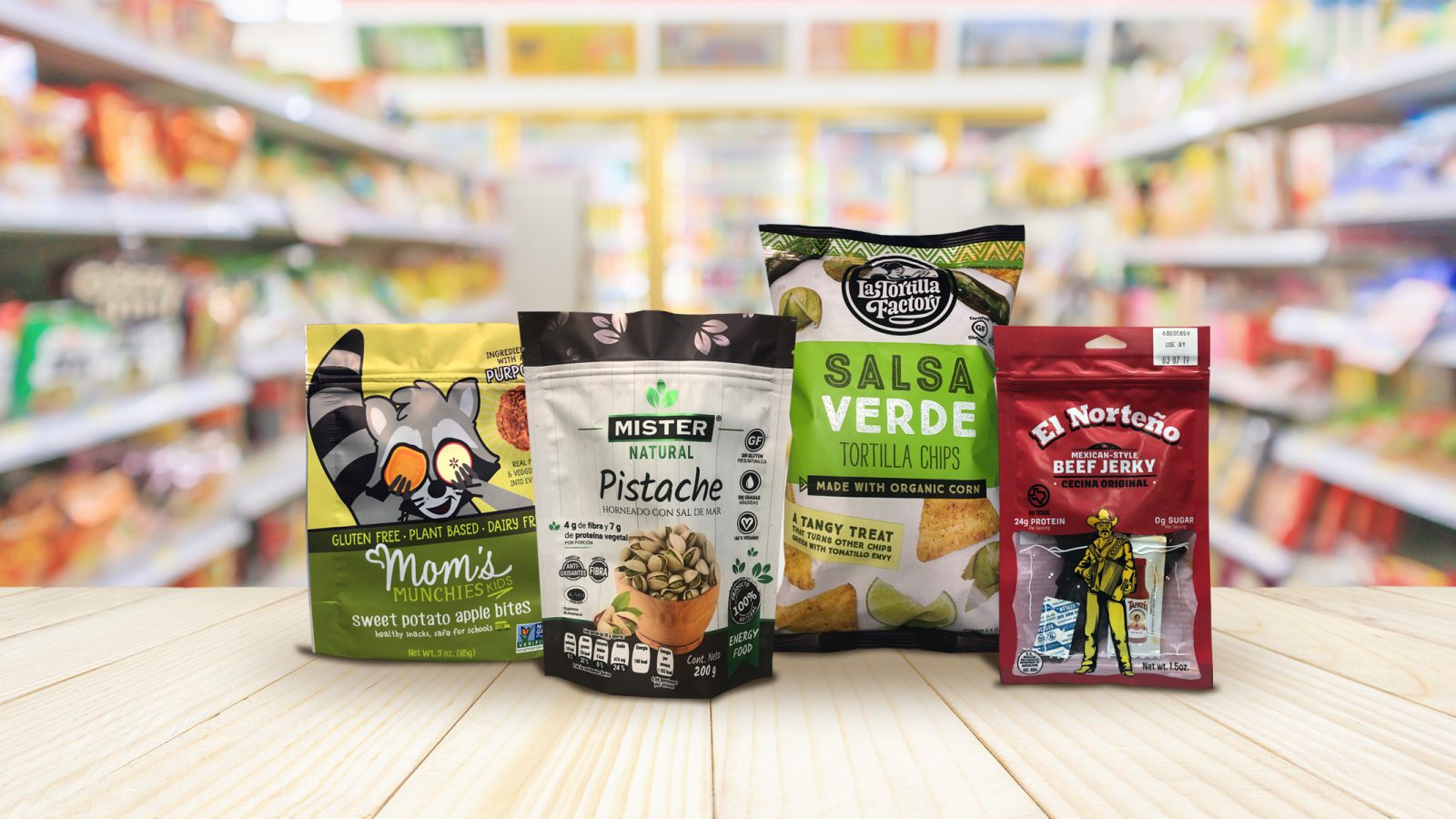 According to Statista, the projected annual total of retail snack sales is over $53.4 billion dollars in 2021. To exploit this opportunity, now, more than ever, is the time for food manufacturers to create exceptional packaging that stands out and communicates with your consumers.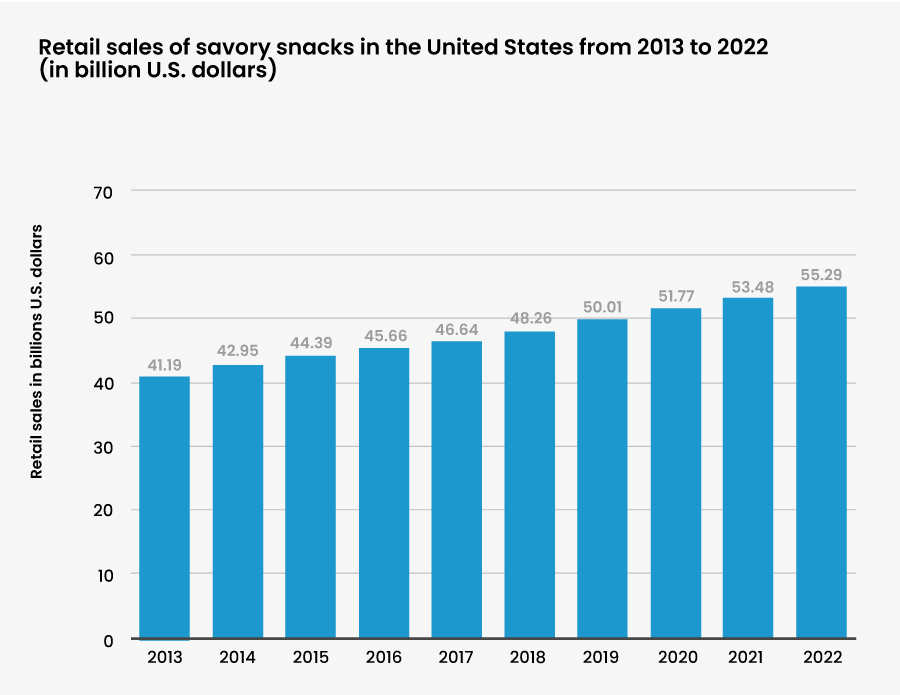 There are few things more gratifying in this life than snack time. When it comes to snack packaging, a high-quality design that stands out, along with guaranteed preservation of freshness are both crucial aspects of efficient packaging. Those two things paired with convenient resealable and self-standing features create a product packaging that's hard to resist and stands out among competition.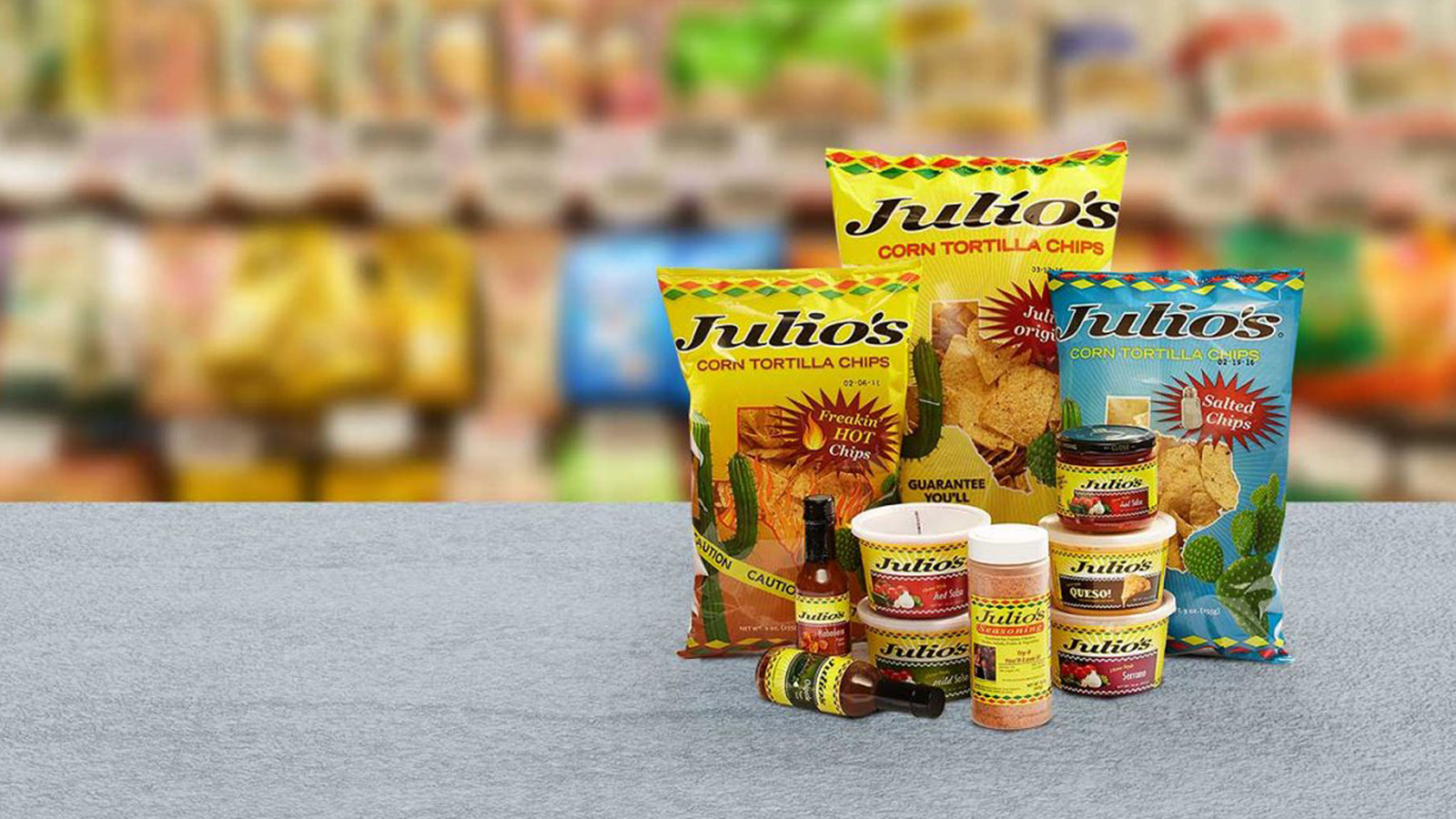 Custom Food Packaging for Snacks
It's no secret that snack food is an ever-growing booming industry. Fast-pace lifestyles demand more nutritive foods available on-the-go, while convenient and accessible packaging appeals to consumers who need to be able to easily transport their food.
Here at Polymerall we have distinguished the perfect 4-ingredient recipe for irresistible snack food packaging that is guaranteed to boost your brand's appeal.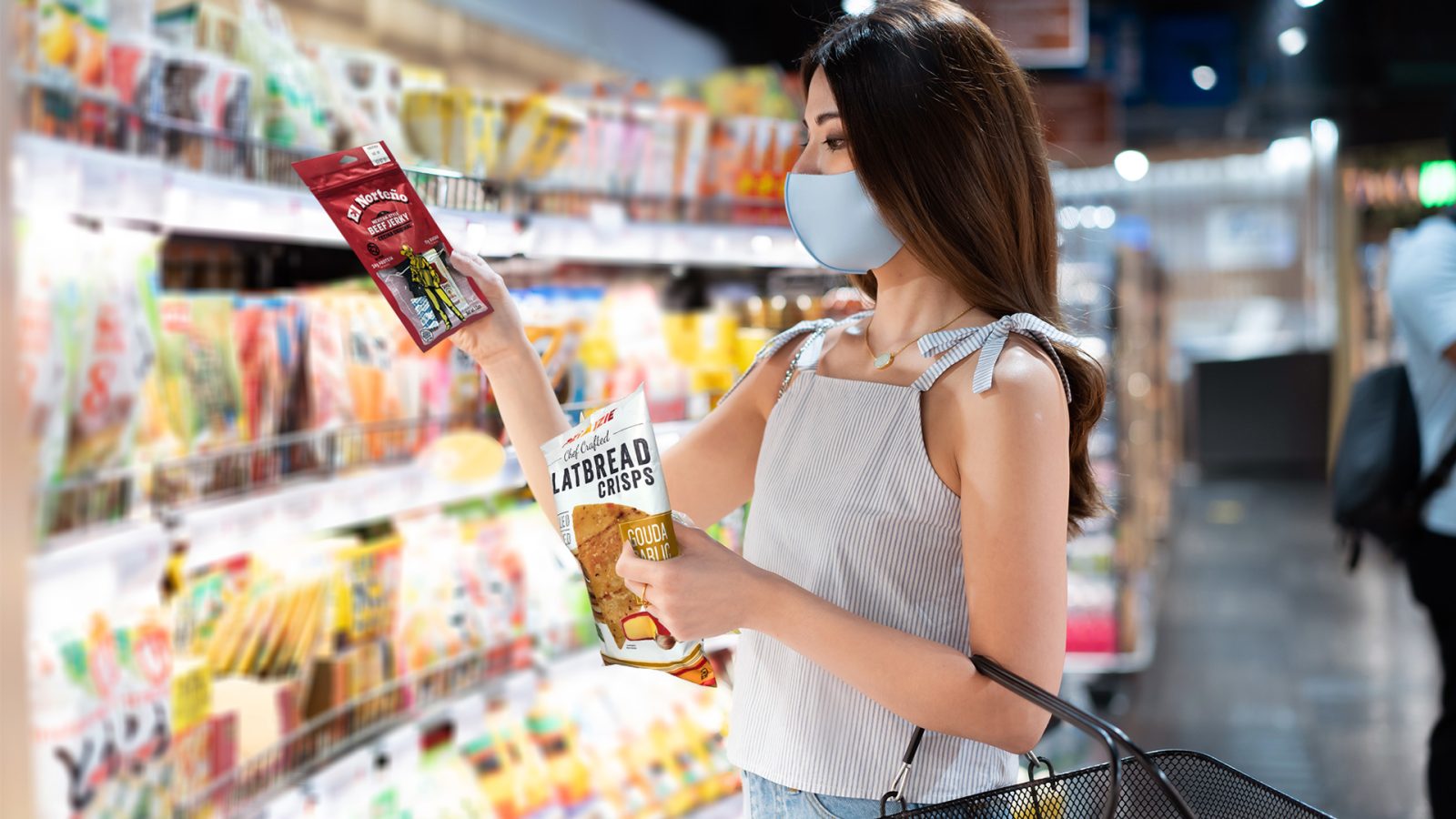 The Perfect Recipe for Snack Food Packaging to Position your Brand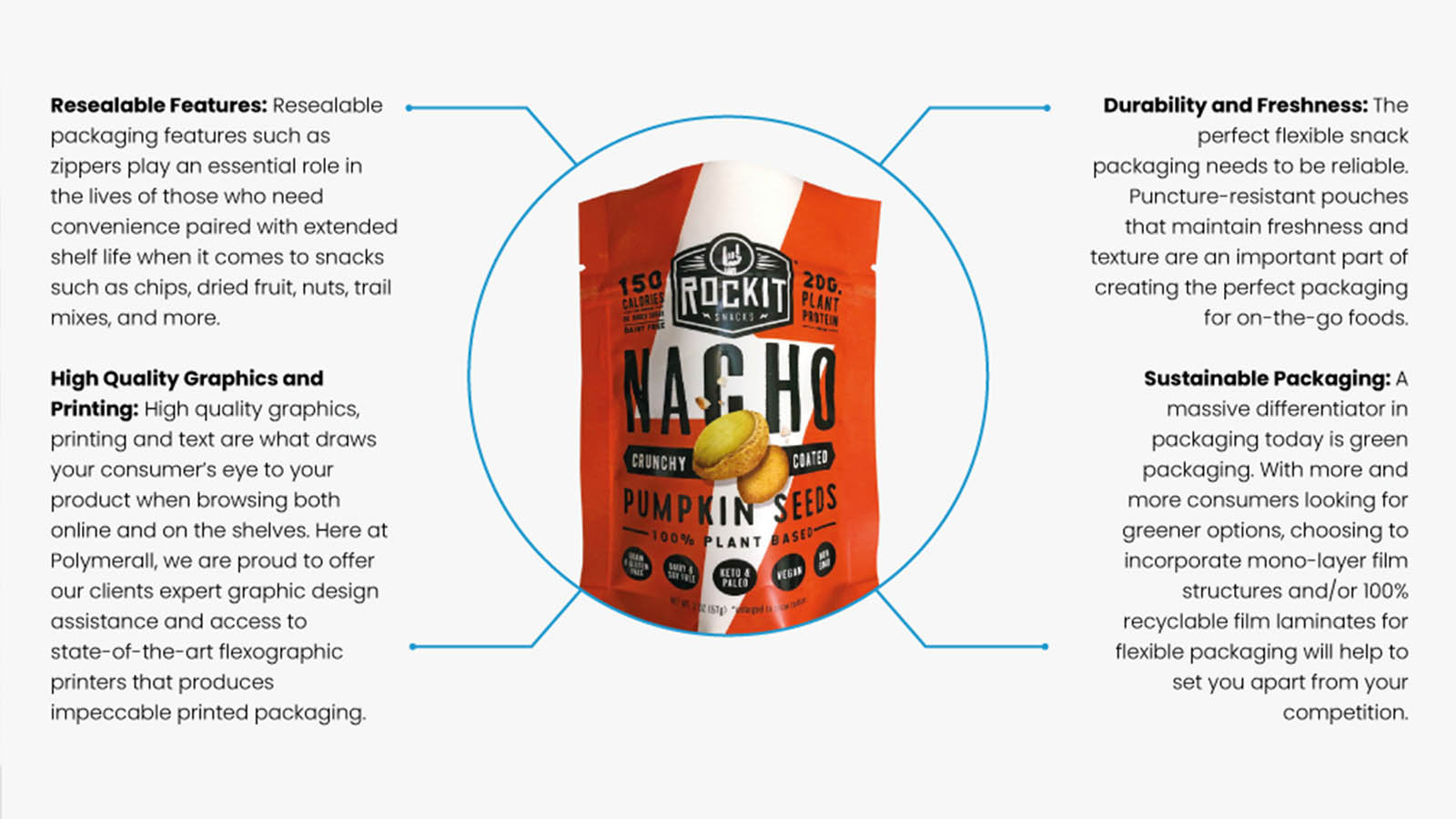 Polymerall's Custom Printed Flexible Snack Pouches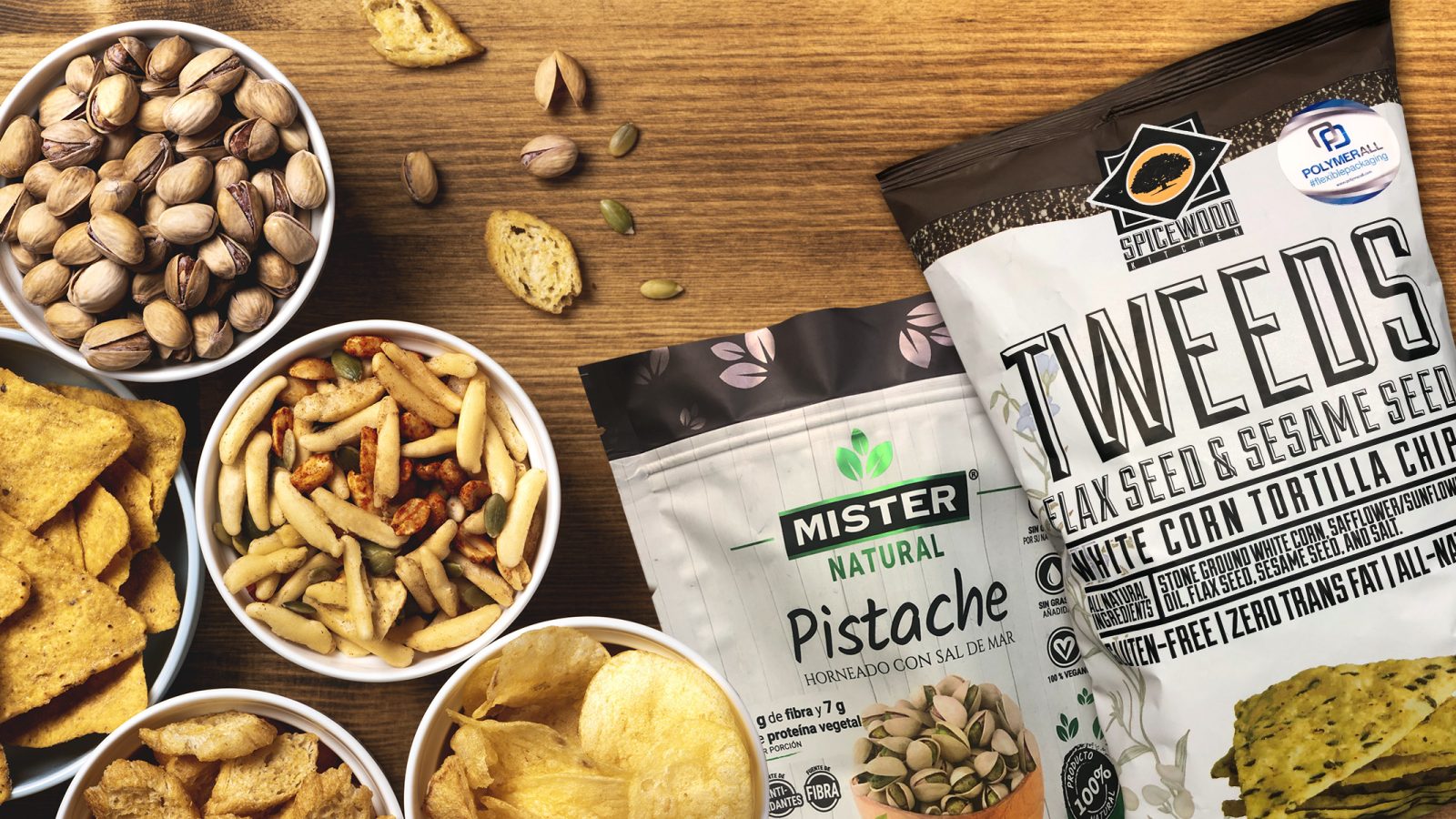 Customized food packaging for snacks and baked goods is designed to take your product to the next level by standing out on and off the shelf. Drastically improve shelf life while adding convenient features such as re-sealable zippers and tamper-proof packaging to give your snack packaging the boost it needs to increase your sales.


Consumer Statistics
When it comes to creating the perfect packaging for your snack, it's important to understand consumer behavior. This helps us define key messaging tactics that can be used directly in your packaging design to captivate potential customers and stand out from the competition.
Motivations for Snacking among consumers in the United States in 2018 according to Statista: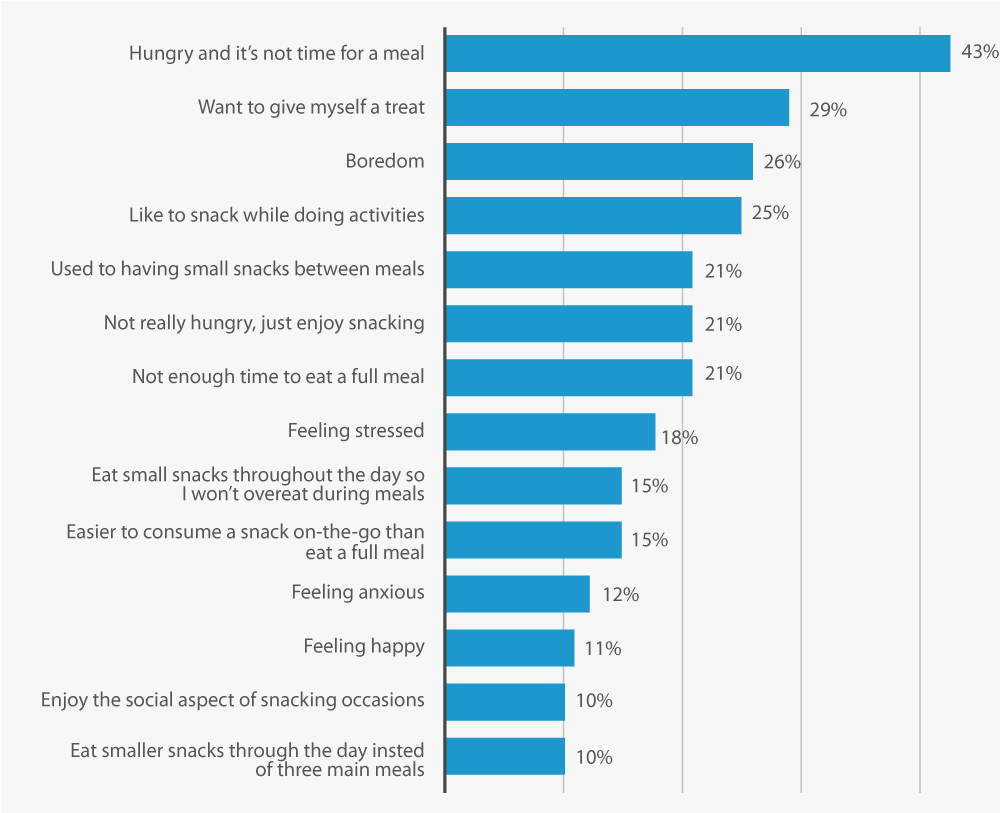 Once you have the perfect graphic design, you'll need a team that supports your packaging and design and execution according to your branding guidelines. Partnering with Polymerall means you'll be partnering with a reliable supplier that can execute your orders on time, on budget and with the promise of delivering only the best print quality.
Based in the Dallas-Fort Worth Texas Metroplex, Polymerall is a certified, top-tier manufacturer and distributor of flexible packaging solutions for a wide variety of industries and applications.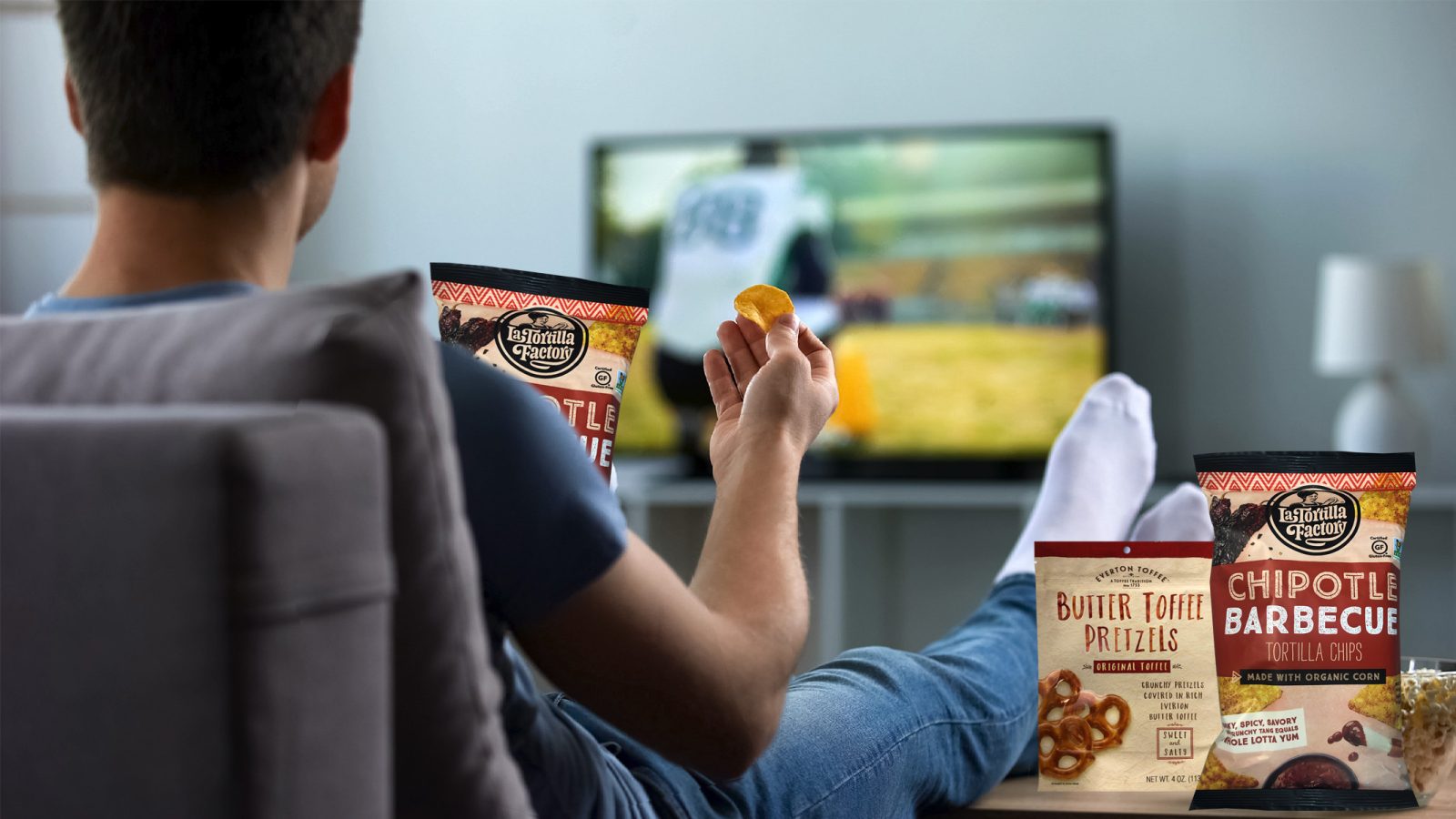 Why choose Polymerall?
We Are Your One-Stop Go-To for All Your Flexible Packaging Needs
Our team of creative professionals is dedicated to improving brands with customized, efficient and innovative flexible packaging solutions. Producing custom printed, laminated and specialty finished rollstock, laminated films and high-barrier films is one of our specialties.
Customizable Design: We offer 100% customizable eye-catching designs with the added benefit of 24/7 graphic design assistance. All our products are made to exact sizing and specifications and are printed with state-of-the-art printing presses for full color front, back and bottom digital printing.
Minimum order quantities: We are proud to offer low minimum order quantities.
4 week lead time: 4-week lead time, while we work with each client to ensure their product is designed to boost sales, maintain freshness, and lead their company to success.
Highest safety certifications: Our facilities and operations have also been awarded the highest safety certifications possible, including the ISO 9001 Quality Control Certification, and the FSSC 22000 Food Safety Certification.
Our manufacturing facilities hold ISO9001, FSSC 22000, FDA and HACCP certifications that guarantee the quality of our products and services.

Contact us for your personalized quote today!